User:Flansfan
From This Might Be A Wiki
TMBW Userboxes
I could list all of their songs as my favorite. Deal with it.
Hi. My name is Shiphrah (Shif-ra) and I Will Always Love You, "Marty Beller"! Don't Walk Away From Me, "Marty"! But How Will I Know that, "Mr. M"? I'm Trick-Or-Treating at your house, "Marty".
I'm Left-handed.
I'm a little bit insane, sorry. I mean, I'm not really insane, but I get wacky sometimes. I guess that happens to everyone, though.
I'm thinking of changing my name to Ana. I like the name Ana and I like the song Ana Ng. It's pretty good. Yep yep yep.
My favorite band member besides John and John is Marty Beller. My least favorite band member is Dan, but I'm not going to tell you which Dan it is. That's up to you to figure out, you Dan-lover!
That last thing was a joke. I do not have a favorite TMBG member, regardless of my username.
My favorite video is They'll Need A Crane because I love John Linnell's spazziness. My sister likes that video because there's old people in it hahahahahaha.
I'm listening to Here Comes Science right now. When I grow up, I want to be a PALEONTOLOGIST BASS-PLAYER WHO WEARS RED PANTS.
I'm usually into depressing lyrics.
I have a freak flag that I raise higher and higher.
The first time I heard Speed And Velocity, I had to go outside and RUN! I give Marty a big thumbs up.
You're probably wondering what album I am. Well, I am my favorite album (ALL OF THEIR ALBUMS ARE MY FAVORITE HAHAHAHAHAHAHA!)

<a href="http://www.mandaliet.com/quiz/tmbgquiz">Which They Might Be Giants album are you?</a>


Well, That's pretty much all I have to say. I think I have introduced myself well.

Some Of My Favorite John and John pictures: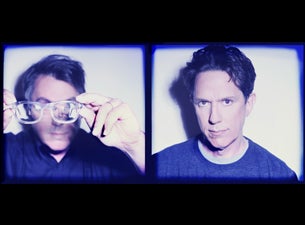 John Linnell with glasses on:
Here Comes Flansy!
Back to both of them:
The End.